James O. B. Rotimi, Founding Editor, is an Associate Professor of Construction Management at the School of Built Environment, Massey University, New Zealand. James has over 25 years of tertiary teaching and research experience in academic institutions in Nigeria, UK, South Africa and New Zealand. He also has various building construction industry experiences including a senior associate role in a quantity surveying consultancy in Nigeria. James is an active researcher and publishes extensively in the general fields of: construction project management, construction supply chain management, disaster legislation and post disaster reconstruction and management. James established the International Journal of Construction Supply Chain Management IJCSCM in 2011.
Dr Funmilayo Rotimi has rich and varied work experiences from analytical skills and research to much more interpersonal skills in mentoring and teaching students. Funmilayo began her career as a Structural Design Engineer in Nigeria's civil engineering consultancy practice, managing several civil engineers. She delivered on some complex but exciting concrete building structures. Also, in Nigeria, she worked in facilities management for an oil company (NNPC) and with a University's building maintenance service department. In New Zealand, Funmilayo worked as a Development Engineer in a consultancy firm involved in stormwater design and land sub-divisions. After her PhD, she began an administrative role at Auckland University of Technology (AUT) then moved on to become the pioneer lecturer for the Diploma in Construction Management (Quantity surveying strand) at Northland Polytechnic (NorthTec international campus). Funmilayo rejoined AUT as a lecturer with the Built Environment Engineering Department. Funmilayo has a strong passion for tertiary student development, and her ultimate goal is to enable her students to experience and achieve real-world learning. Dr. Funmilayo currently lectures at the Auckland University of Technology and is actively involved in research with interests in Building quality and performance; Construction project management; Offsite Construction, Women's Health; and Construction Productivity. She has a good number of publications with a significant number under development. She acts as a reviewer to notable Journals and conferences.
Dr Mbachu is an Associate Professor of quantity surveying and construction management in the Faculty of Society & Design, Bond University. He has 20+ years of university teaching experience in Nigeria, South Africa, USA and New Zealand, and 12+ years of construction work experience in various roles: quantity surveyor, contracts manager, construction manager & planner. He has supervised many PhDs to successful completion in his research interest areas, including productivity, supply chain management, innovation, prefabrication and digital technologies in construction. He serves on a number of boards for the industry and professional organisations, including the RICS Regional Engagement Group for Queensland & Northern Territory. He is also a member of the Earned Value Management Consulting Group to the U.S. Government Accountability Office.
Jack is currently Professor of Construction Project Management at Wolverhampton University (UK) – former Joint Coordinator of CIB TG74 "New Productions and Business Models in Construction" and current Joint Coordinator of CIB W121 "Offsite Construction". He has authored over 200-refereed papers/reports and book chapters, including two co-edited books [Construction Innovation; and Offsite Production and Manufacturing for Innovative Construction]. Expertise includes: People (skills/training/culture/supply chain management); Technology (strategy/adoption/absorption/diffusion); Process (approaches/optimisation and project management); and Business (models/strategy/organisational learning, and innovation strategies).
Professor John Tookey is Deputy Head of School External Engagement at the Auckland University of Technology, New Zealand. He completed his PhD dealing with concurrent engineering in the aerospace industry. From 1998 to 2006, Professor Tookey worked at Glasgow Caledonian University as first a researcher then as a lecturer. In 2006, he moved to the University of Auckland and then moved to AUT in 2009. Professor Tookey has had an extensive track record of research and programme development. In the UK he managed one Masters programme in construction management; then developed a new programme in project management to run alongside. At AUT he introduced two new Masters programmes in construction management and engineering project management, as well as unique undergraduate programmes in Architectural Engineering and Construction Engineering. In addition to his programme governance and development roles, Professor Tookey is the director of the Centre for Urban Built Environment in NZ (CUBE-NZ). He also regularly consults for industry and acts as Associate Editor for IJCSCM and peer reviewer for numerous Journals and conferences.
Suzanne is Professor in the School of Built Environment at Massey University in Auckland. Suzanne has a PhD in Construction Management and a BEng (Hons) in Civil Engineering, both from Oxford Brookes University, UK. She also has a Graduate Diploma in Business Studies (Dispute Resolution) from Massey University. Her current research focuses on disaster management, construction innovation, resilience and smart cities. She is interested in how cities, communities and organisations, including construction organisations, plan for disasters and manage hazard events and how to make them more resilience. At the moment she is working on ideas on construction climate mitigation. After a 1993 PhD titled 'Entry to Employment: Choices made by qualified women civil engineers leaving higher education' at the Oxford Brookes University, she moved to the University of Auckland, rising to full Professor in 2016 before moving to her new position at Maseey University as Associate Dean Research for the College of Sciences and Director of postgraduate studies for the School of Built Environment.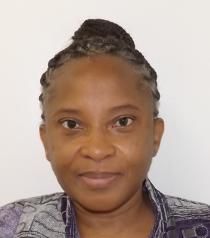 Professor Abimbola Windapo is a Professor of Construction Management at the Department of Construction Economics and Management, University of Cape Town, with more than 30 years of experience in the construction industry. She is a Registered Construction Project Manager and Professional Construction Mentor with the South African Council for the Project and Construction Management Profession (SACPCMP) and Registered Builder with the Council of Registered Builders of Nigeria (CORBON). Her research is in the area of construction industry development, business and project management from a supply chain, performance and practice perspective. She is the Editor of the Construction Business and Management Journal, published by the University of Cape Town Library (http://journals.uct.ac.za/index.php/jcbm/index) and the Director of the Construction Business and Management Research Group. Visit https://abimbolawindapo.academia.edu/ to view a copy of her detailed CV and publications.
Professor Kabir Bala is the current Vice-Chancellor of Ahmadu Bello University ABU, Zaria-Nigeria. He graduated with B.Sc. (Hons) Building in 1985 from the Department of Building, ABU, Zaria. He worked briefly at Amana Development Company in Kaduna before joining the services of ABU, at the Department of Building in 1987. He obtained the Master of Science in Building Services in 1990, Masters in Business Administration in 1998 and Doctor of Philosophy (PhD) in Construction Management in 2001, all from ABU. He was at the Department of Civil Engineering, Surveying and Building, University of Abertay, Dundee Scotland as a Visiting Scholar in 1994 /1995. At ABU, Professor Bala was two-time Head of Department of Building from 2001 to 2006 and from 2010 to 2014; he was the pioneer ICT Coordinator of the University from 2005 to 2006 and Deputy Dean, Faculty of Environmental Design from 2006 to 2008. He served as Director of Academic Planning and Monitoring from 2010 to 2013, Dean, School of Postgraduate Studies from 2015 to 2017, and Deputy Vice-Chancellor (Administration) of the University from 2017 to 2019.
Professor Chika Udeaja is a Professor of project management and construction at London South Bank University LSBU, London UK. Prior to joining LSBU, he was the programme director for the construction project management at the University of Salford. Professor Udeaja had worked as an engineer before embarking on PhD in construction management at the London South Bank University. Chika's PhD was followed by research job at University of Newcastle where he worked on a project called CAPRIKON. Over the years, he has contributed to a number of scientific and academic committees. For example, as a committee member of ARCOM, he has been instrumental in facilitating doctoral workshops in order to promote/disseminate construction management research globally. His research interests cover technology, people and process related aspects of the project management including how organisations manage information/knowledge and support decision making in a project environment.
Dr Ying is a Senior Lecturer at Auckland University of Technology. She obtained her PhD in Civil Engineering at the University of Auckland in 2011. In her thesis, Fei constructed a decision analysis model to assist building owners making strategic decision regarding to earthquake prone buildings. Fei also had research experience working for GNS as a research assistant of Determining Volcanic Risk in Auckland (DEVORA) project in 2010. In 2011, Fei joined Auckland University of Technology as a post-doctoral research fellow. Fei was the Principal Researcher on Mapping of Auckland Construction Lifelines, a project sponsored by the Building Research Association of New Zealand (BRANZ). Fei then took up the lecturing role in both undergraduate and postgraduate level in the Department of Built Environment Engineering. Fei is an active researcher in mainstream construction and engineering management. Her special research interests are construction supply chain management, logistics performance measurement and value-focused decisions analysis.